WWDC event poster
Another year. Another Apple Worldwide Developers Conference. Does that make this year's event any less exciting? Nope. With wild speculation in-tow, here's a run down of things we may see at the event led by Steve Jobs this morning. Some of these things are obvious at this point, and others come solely from the depths of my imagination. First, the obvious stuff: Lion, iOS 5, and the strangely pre-announced new iCloud service.
Lion:
First, Jobs will give us a run-down of all the anticipated features previously discussed and
available on Apple's website
about the new product (full-screen apps, LaunchPad, Mission Control, Auto Save and Versions, etc...), and also possibly demo some new features we have yet to see.
There is a lot of noise about Apple distributing Lion through the new Mac App Store. I'm behind this prediction 100-percent. For years, Apple has dreamt about a world where they can finally kick physical media to the curb. They will still have disks available, but I think they will offer OS X Lion through the Mac App Store sometime this month, if not today.
iOS 5:
Second, Jobs and his colleagues will show the next version of iOS, and I feel that this will take up most of the presentation. The first of their demos will be on the system integration of third-party Apps throughout the operating system. As some stories have pointed out,
Twitter seems to be one of the first Apps to have been given this ability
, and a spokesperson from Twitter will come out and talk about how they were contacted by Apple to try out this new API for development. Then Scott Forstall, the VP of iOS software, will explain how this new API will allow for developers to add integrated features throughout the OS for their applications if the user has the app installed on his or her device. However, I think that there should be an option for the user to turn this off if he or she desires.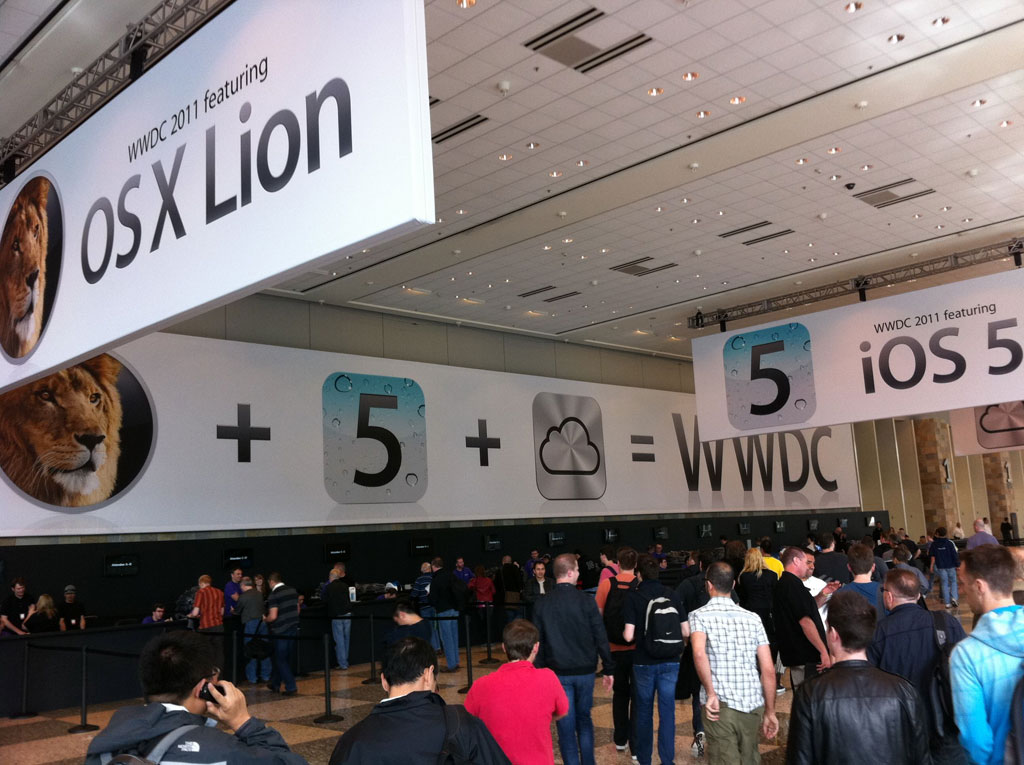 From MacRumors.com
Remember when third-party apps, cut-copy-paste, and multitasking didn't exist on the iPhone? Well, we screamed and screamed about them, and one at a time they were taken care of. One of the last core things we power-users scream about is iOS's really crappy notification system. This year, I think Apple is going to change that.
It's execution will resemble a drop-down menu from the top of the screen, kind of like a combination between the iOS multitasking UI and the Android notification system. It will store all of your recently received notifications in an un-intrusive list so you can review them at your discretion.
Also to be included, according to reports like
this one
, is the automatic downloading of app updates. A feature I hope can be turned off if wanted, devices will now automatically update installed apps without the user have to manually tap each update and get thrown to the home screen.
I feel like we might see some UI element and stock app updates as well. Although I am unsure of what that might include, the old widget apps that haven't been touched since the first iPhone are going to either be fully fleshed-out or eliminated or combined into one stock-weather-contacts app.
Some reports are saying that the messaging app might be updated
. Lastly, I hope but doubt they will include widgets or other glanceable information on the lock-screen or homescreen.
iCloud:
The child of iTunes + MobileMe. It's obvious that we can't carry our ever-growing music and video collections on these tiny devices. The answer to that is storing everything in the cloud. The cut off for storage on iOS devices is 64GB—a sizable but still very limited amount of space. Not to mention, we also use these devices for all kinds of productivity uses, so the ability to have easily available, all one's documents and files in a sort of permanent off-site backup accessible from anywhere is nearly essential nowadays.
Now all these things can actually already be reproduced using and number of different services: Amazon Music, Google's new Google Music beta service, and also things like DropBox and Go To My PC. But still, most of us use and are stuck on iTunes. iCloud, I think is more like a single-source consolidation of all these services that will be functional and easy to use.
How will it be executed though? If you look at the pictures of the iCloud icon, it looks much like an iOS app button. This is kind of hard to imagine, but what if the iCloud service will be consolidated into like an app for access on the iOS platform? The user could pop open the App and browse and stream whichever files or media he or she owns stored in the cloud. The same service will probably work similarly on the desktop too. But hey, I'm no cloud networking genius...
Hardware:
As far as new gadgets go, I actually do think that Apple will release an updated version of the MacBook Air to go along with the release of Lion. It may not even be announced at the event today, but at least be available within the next week or so.
No new iPhone. Having read story after story saying Apple will not announce a new iPhone until Fall, I have to say, I'm thoroughly convinced.
And that'll be it. Now I can't wait until later this afternoon to see just how wrong I, and everybody else, was.